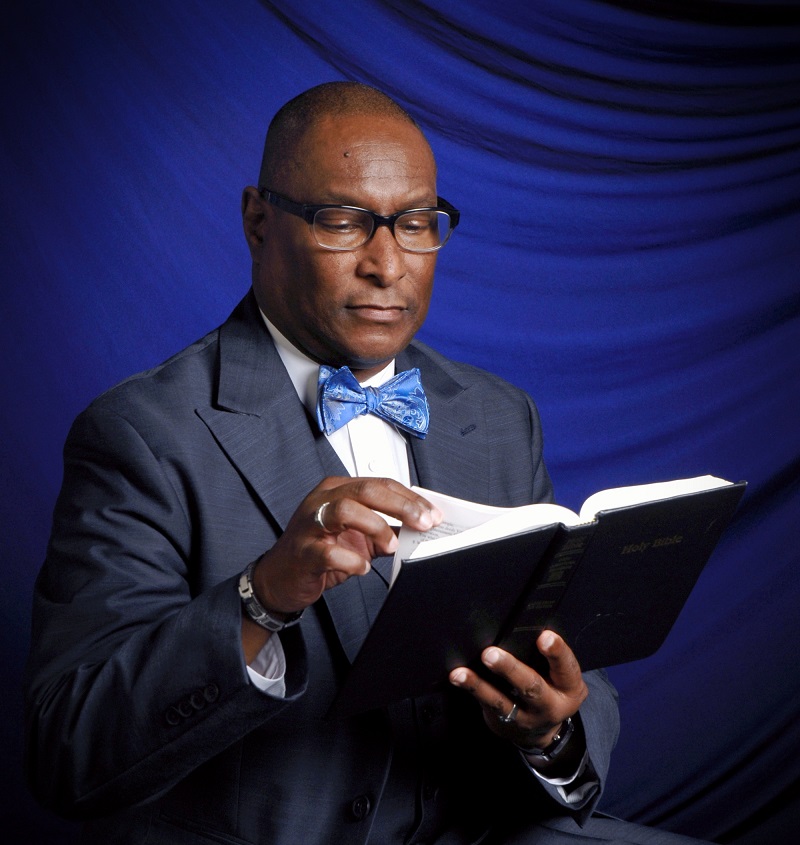 Biographical Sketch

of
Ronald Daniel Dunnigan, D Min.
The Senior Pastor of
Pleasant Hill Baptist Church
Dr. Ronald D. Dunnigan is a native of Norcross, Georgia and was born in 1960, to the parentage of Mr. Rufus B. Dunnigan and the late Mrs. Barbara L. Hood Dunnigan. He attended the public schools of Gwinnett County. After completing high school he entered West Georgia College; there he earned a Bachelor of Business Administration degree. While in college he accepted his calling into the Christian Ministry.
Dr. Dunnigan's Christian experiences began as a child at Hopewell Baptist Church in Norcross, Georgia. At an early age he joined Hopewell, where he served as a Sunday School instructor, Choir Director, Sunday School Superintendent, and after his ordination in 1982, as Senior Associate Pastor. In 1982, he entered the Interdenominational Theological Center (Morehouse School of Religion) to begin work on a Master of Divinity in Religious Education. He earned this degree in May 1986. He has also completed work on his Doctorate in Ministry from Andersonville Theological Seminary and earned this degree in May of 2007.
In 1987, he was called to serve as Assistant to the Pastor, the late Reverend J.J. Grogan, at Pleasant Hill Baptist Church in Lawrenceville, Georgia. In December of that same year, Dr. Dunnigan was called to pastor Pleasant Hill where he has served since 1987. Under his leadership the church has grown from a rural congregation of 100 to a suburban congregation of 1,500, with continuing growth.
Dr. Dunnigan has led the church in a successful building program for the purchase of a $2,000,000 worship facility. The congregation has been blessed spiritually with the development of an intense disciple program under Dr. Dunnigan's leadership. During his tenure as pastor, the church has developed several new ministries and is working to implement a creative outreach program to better minister to the community.
Dr. Dunnigan's abilities have not gone unnoticed by the larger community. In 1986, he was awarded the W.W. Weatherspoon Preaching Award from the Morehouse School of Religion. In May of 1986, after serving at the Metropolitan Atlanta Christian Council he was elected to serve as summer Pastor at Panthersville Presbyterian Church, Decatur, Georgia. His other pastoral experience includes serving as transitional pastor in 1983 at Zion Baptist Church, Doraville. He was selected as a member of the National Register's Who's Who in Executives and Professionals in 2006 and Madison Who's Who in 2007.
Dr. Dunnigan has served as Minister of Youth for the Hopewell Baptist Association and at the annual session in October 1991, he was elected First Vice-Moderator. In October 1994, he was elected to serve as Moderator of the association, which was composed of 15 churches in metropolitan Atlanta. This position made him the youngest Moderator in the history of the association. He served in this position until 1998. During his tenure as moderator the association completed its restructuring and developed the more "Comprehensive By-Laws". At the annual session of the Hopewell Association in 2006, he was elected to serve as the Second Vice-Moderator.
Dr. Dunnigan has participated in national, state and local congresses and conventions and is known throughout the state of Georgia; in addition he serves on the Board of Directors of several other ministries. In January 2001, he was awarded the Martin Luther King, Jr. Religious Leadership Award by the Gwinnett County King Celebration Committee. In 2007 he was honored at the 22nd Annual Leadership and Courage Awards by Ross Promotions with the "God's First Award." He also serves as an instructor for International Seminary of Plymouth, Florida in the distance learning extension program hosted at Pleasant Hill.